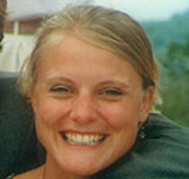 Hélène De Beir (Bologna '99, Washington '99) was murdered in a violent ambush whilst working to alleviate suffering of the Afghan people on June 2, 2004. Early in life, she received an internationally oriented education with an emphasis on study, duty and social responsibility. After SAIS, Hélène worked in Liberia as part of the Jimmy Carter Foundation and assisted in the drafting of a new constitution. She later worked for the Belgian Development Cooperation and after passing through the world of finance, she was sent to Afghanistan for the first time in August 2002. In 2003 she joined Médecins Sans Frontières (MSF) leaving for Iraq in April and then the Ivory Coast in June. In the spring of 2004, she travelled again to Afghanistan to run a tuberculosis clinic in the western province of Badghis. On June 2, 2004 gunfire was directed at a Médecins Sans Frontières vehicle on its way to the capital Khabul. Hélène was brutally shot dead together with four of her colleagues. The motive for the murder remains unknown to this day. To learn more about Hélène's life visit
www.helenedebeirfoundation.org
.
In memory of Hélène, and to pursue her ideals, Hélène's father, Francis De Beir, decided to create the
Hélène De Beir Memorial Fellowship
at the Johns Hopkins University, School of Advanced International Studies.
Thanks to the generosity of her father, classmates, and friends, the Hélène De Beir Memorial Fellowship has been endowed and will honor Hélène's memory in perpetuity.
"When asked what could be done to lower the degree of violence in the world, she would say: "When people have no words to express their discontent, disagreement or fear, they turn to violence. I see only three means of countering violence: education, education and education!" This is the reason why the Hélène De Beir Memorial Fellowship has been established and addressed to women of Islamic culture who want to pursue humanitarian studies, with the hope that one day these women will, either through their professional activities, as politicians or in public life, bring about a change in mentality regarding the position of women in the world."
- Francis De Beir
Since its inception, five students have benefitted from the
Hélène De Beir Memorial Fellowship
:
Ms. Mame Soce Sene (Senegal) - Bologna 2006, Washington 2007
Portfolio Analyst, Agriculture Department at African Development Bank in Tunisia
Ms. Sana A. Khan (Pakistan) - Bologna 2008
Research and Development Officer at International Rescue Committee in New York
Ms. Edna M. Kallon (Sierra Leone) - Bologna 2011, Washington 2012
Agribusiness Development Analyst at the World Bank in Washington DC
Ms. Chimdindu Onwudiegwu (Nigeria) - Bologna 2013, Washington 2014

The current
Hélène De Beir Memorial Fellowship
recipient is Ms. Deea Ariana from Bangladesh. View
her profile
.
Hélène's classmates and friends who would like to get involved in the initiative, should contact the Bologna Class of 1999 leaders
Dirk Meerburg
and
Lucas De Beaufort
or the Bologna development team at
sais.eu.development@jhu.edu
Make a pledge and/or a gift now on our
Online Donations
page.
How to Make a Tax Deductible Donation