Class of 1991 Initiative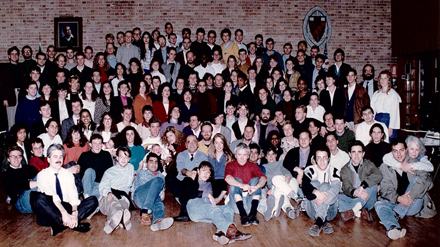 "To me, and I hope to the rest of you, Tim was the epitome of the kind of global citizen that SAIS turns out. Hopefully, with our help, the Bologna Center will create a lot more Timos."
by Jennifer Reingold
To commemorate the one year anniversary of Timothy Allen Rhodes' death, Jennifer Reingold (Jim Upton and Kate Seekings) have decided to launch an honorable initiative on the occasion of their 20th class reunion: contributing to the Bologna Center Building Campaign through a class gift in memory of Tim.
They have chosen this twenty-year reunion as the right occasion to give back to the school and established a $20,000 goal. Their collective contribution will be showcased with a commemorative Class of 1991 plaque in one of Tim's favorite corners of the Bologna Center - the bar area.
"As we approach the 20th anniversary of our year in Bologna, it's worth not only remembering the great times, intellectual battles and the life-long friendships, but also how much the world still needs the kind of broad, critical thinking that we learned while studying there. So I'm hoping that you will join me in contributing to the class gift this year, and that you will do so in the name of Timothy Allen Rhodes, a key member of our class who died tragically on March 19, 2010 in a fire in New York City.

Timo was a wonderful friend to so many of you and an indelible influence on the class, always ready with a wisecrack or hilarious and trenchant sendup of something or someone. You might remember his animated political discussions and his generosity of spirit. Timo should have been born in Europe (and probably wished he had), but he also spent a lot of time studying developing countries and thinking about what was wrong with the world and how it might be fixed.

We are hoping to raise $20,000 in Tim's name, and to contribute it to the building fund to support the Bologna Center's infrastructure."
- Jennifer Reingold
Members of the Class of 1991 who would like to get involved in the initiative should contact the Bologna Center
development staff
or the class leaders:
Questions and comments about gifts to the class initiative can be directed to the SAIS Europe
development staff
.
Make a pledge and/or a gift now on our
Online Donations
page.
How to Make a Tax Deductible Donation