Class of 1982 Initiative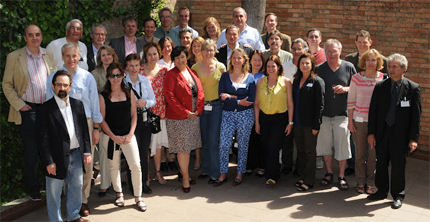 During the
I Bolognesi a Londra
Event in October, we had the occasion to meet up with Mimi Armstrong from the Class of 1982. She was literally thrilled to serve as class leader and begin helping the class with the organization of their 30th reunion in Bologna (April 27-29, 2012). She immediately involved Bonnie Byers and Barbara Politi and started working for their anniversary.
They all agreed that the reunion in April offers an opportunity and venue, not only to meet up with friends with whom they shared a life-changing - or at the very least - a lively year together, but also the chance to give back to the institution which gave so much to them and contributed in so many ways to who they have all become. For this reason they decided to mark this important milestone by launching a class initiative to support Bologna Center students.
Their first goal is to raise $100,000 enabling the Center to open an endowment, securing in perpetuity a Bologna Center Class of 1982 Fellowship. The other goal, even more meaningful, is to reach the 100% contribution level. Everyone is called upon to participate in this effort in the true spirit of a class initiative.
"To address the Bologna Center need for financial aid, and commemorate our Thirtieth Year Anniversary, the Class of 1982 is launching a fundraising drive to help support student fellowships. Our goal in the next 6 months is to reach the 100% contribution level and $100,000. Please start thinking now about giving back to the organization which has meant so much to all of us."
Stay up-to-date with developments for the reunion and the class initiative joining the Gruppo Due Torri '82 on Facebook!
Members of the Class of 1982 who would like to get involved in the initiative, should contact the Bologna Center
development staff
. or the class leaders:
Questions and comments about gifts to the class initiative can be directed to the SAIS Europe
development staff
.
Make a pledge and/or a gift now on our
Online Donations
page.
How to Make a Tax Deductible Donation