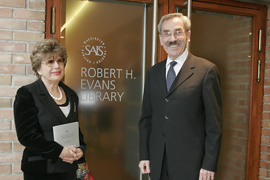 Library |
The Robert H. Evans Library


The Robert H. Evans Library honors a man whose dedication and commitment to the Bologna Center leave an indelible mark.

Evans' 11 years as the director of the Bologna Center was the longest tenure except for the founder, C. Grove Haines. As director, he helped make SAIS better known throughout Europe, secured the Center's finances, enhanced its ties to the community and increased the endowment threefold. He set into motion the Center's most ambitious project to date: the expansion and renovation of the building.

After receiving his diploma from the Bologna Center in 1960, Evans earned advanced degrees from the University of Denver. Before coming to the Bologna Center in 1992, he taught at the University of Notre Dame and the University of Virginia, where he was department chair in international relations.

He wrote Coexistence: Communism and its Practice in Bologna, 1945–1965 and Life and Politics in a Venetian Community, as well as numerous articles on Italian elections and on local and regional governments.

After leaving the Center in 2003, he was president of the American University in Rome until his premature death in 2005.

Evans was not only an able administrator, but he was also a teacher and writer. And for this reason, naming the library after him honors his commitment to the physical as well as the intellectual life of the Center.

If the measure of a person is to leave the world a better place, then Bob succeeded in action and in results, leaving an enduring memory for the students who studied here, the faculty and staff who served with him, and the many friends and supporters of the Bologna Center around the world.