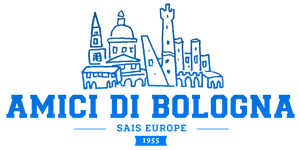 Amici di Bologna
is an association of SAIS Europe alumni, staffed by volunteers and funded entirely by alumni donations. Its mission is two-fold: to support SAIS Europe and to help
Bolognesi
maintain their ties to each other and to the school.
Established in 2007,
Amici
has organized an annual dinner and reception in New York City and Washington DC for the past 13 years. These dinners, which include an academic symposium featuring SAIS faculty, have become one of the largest gatherings of SAIS alumni anywhere in the United States. Each year they attract guests from across the U.S. and around the world.
Amici di Bologna 2021 Committee members:
Adele Barzelay, B'16, '17
Patricia Hartendorp, B'09, '10
Alison von Klemperer, B'86, '87
Judit Vasarhelyi-Kondor, B'12, '13
Madeleine McCartney, B'15, '16, Co-Chair
Zachary McCutcheon, B'19, '20
Molly Shutt, B'19, '20
Tom Tesluk, B'81, '82, Co-Chair
If you would like to join the Steering Committee and participate in the event planning and other social activities, please
email
Steering Committee Chairman Tom Tesluk.
In 2020 the Amici di Bologna Steering Committee to honor the Bologna Center's 65th anniversary established the
Amici di Bologna Student Fund
. It stems from the Amici di Bologna Fellowship, established in 2015 and supported by the generosity of many
Bolognesi
, but has an expanded goal to support SAIS Europe students in three different but equally important ways:
Fellowship
Fellowship support alleviates the cost of tuition on students and opens up the SAIS doors to a broader and diverse range of applicants. Since its inception, the Amici di Bologna Fellowship benefitted 23 students from a dozen nationalities.

This year, the Amici di Bologna Fellowship recipients are:



Ms. Malin Irgens (Norway/Sweden) - B'22
View profile.
Current SAIS student in Bologna


Ms. Seonjin Kim (South Korea) - B'22
View profile.
Current SAIS student in Bologna


Ms. Francesca Realacci (Italy) - B'22
View profile.
Current SAIS student in Bologna


Mr. Ivan Pineda (USA/Colombia) - B'21, '22
Current SAIS student in Washington DC


Ms. Pilar Maria Bolognesi (Italy) - B'21, '22
Current SAIS student in Washington DC


View Past Recipients ⇩



Internships
Allowing students to choose their internship experience disregarding of industry sector and remuneration is an impactful way to allow students to take advantage of the myriad opportunities of an international career and encourages them to pursue their professional goals.

View Interns Recipients ⇩



Experiential Learning
SAIS puts equal emphasis on in-class learning as well as learning on the field and by experience. Supporting experiential learning opportunities gives students a comparative advantage in their preparation and future career.
All funds raised will be equally split among these areas and will secure maximum outreach and benefit to the students as they go through their experience at SAIS Europe. To get involved in the initiative please contact the Bologna Center
development staff
.
Make a pledge and/or a gift now on our
Online Donations
page.
How to Make a Tax Deductible Donation