William Speer Kuhn III Family
Summer Internship Fund
| | |
| --- | --- |
| Current Fund Value | 150,000 |
| New Funds Raised | 16130.0000 |
| Goal | 200,000 |
| | |
Donors
Chase Family
Amesville Association
Anonymous
Marian Beers
Natalie Boyse (BC22)
Derek Boyse
Eleanore Boyse (DC85)
Fentress Boyse (BC12 / DC13)
Elizabeth Chapin
Linzee Coolidge
Kitta Frost
Corey & Caitlin Gleason
Matthew Kostman (BC17 / DC18)
Dietrich Kube (BC82 / DC83)
Jacqueline Kuhn
Anita & John Kuhn
Catherine Lastavica
Jennifer Law
Letitia Michotte (DC84)
Dorde Milosevic (BC15 / DC16)
Cooper Morris
Melissa Moye (BC86 / DC86)
John O'Connor
Anne & Peter Rogers
Patricia Scroggs (DC85)
Laura Siena
Alison Von Klemperer (BC86 / DC89)
William Wulsin (DC84)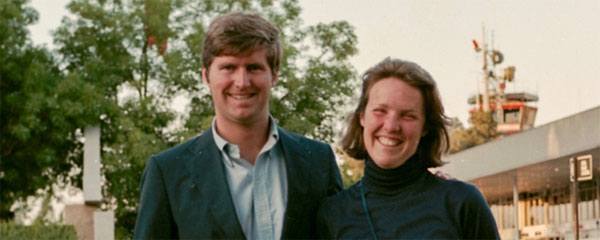 The William Speer Kuhn Family Fund is named for Bill Kuhn and his sister, Jacqueline, both of whom died at an early age.
William Speer Kuhn III (Bologna '82, Washington '83) died of hypothermia on May 21, 1995 at the age of 39 while he and a friend were hiking in the mountains near Almaty, Kazakhstan. Bill had always been adventurous. Perhaps it was because he had been raised in a Foreign Service family and had become a citizen of the world. He received his education mostly in Europe, attending elementary school in France and high school in Italy and Switzerland.
After SAIS, Bill worked as an escort interpreter in French at the State Department, then served as a Foreign Service Officer in Madagascar, Chile and Washington, D.C. and as an election observer in Africa. He then left State for the excitement of the "Wild East"; he was team leader with CARE's humanitarian assistance program in Armenia, Georgia and Russia and worked with Deloitte & Touche as a team leader of USAID's privatization program in Almaty and Akmola, Kazakhstan.
Bill's professors, friends and family members remember him as an independent character with a strong mind of his own: a man well ahead of his time. Following his premature death, his family decided to set up the William Speer Kuhn III Summer Internship Fund at SAIS. The Fund was established to continue his commitment to understanding Central Asia and supports a SAIS student internship or study trip in the 15 countries of the former Soviet Union (FSU). Ideally, the selected student should have little/no direct prior experience in the country of destination, and the funds should be used for him/her to gain exposure to and understanding of Central Asia and other countries of the FSU.
Jacqueline Hill Kuhn died unexpectedly on August 2, 2021 at the age of 60 from complications of a brain arteriovenous malformation (AVM) which she had from birth. Like her brother, Bill, Jacqueline was a citizen of the world having spent much of her childhood in France. She was born in Marseille and had a successful career as a French teacher. Speaking impeccable French, she introduced scores of children to the language she loved. In her later years, Jacqueline settled in Salisbury, Connecticut where she loved to hike, swim and garden. She closely followed the developments of this fund and those who benefitted from it.
Since its inception, the William Speer Kuhn III Summer Internship Fund has enabled 46 students to follow their passions via summer internships. In 2023 the fund enabled a student from Kazakhstan, Aida Zharmukhametova, to undertake an internship at the Food and Agriculture Organization (FAO) office in Ankara, Turkey.
View list
of summer internships.
Gifts to SAIS are tax deductible in the USA and in many other European countries (
click here
for more information).
Make a pledge and/or a gift now on the
online donations
page.
For assistance and/or more information, please contact the SAIS Europe
development team
.