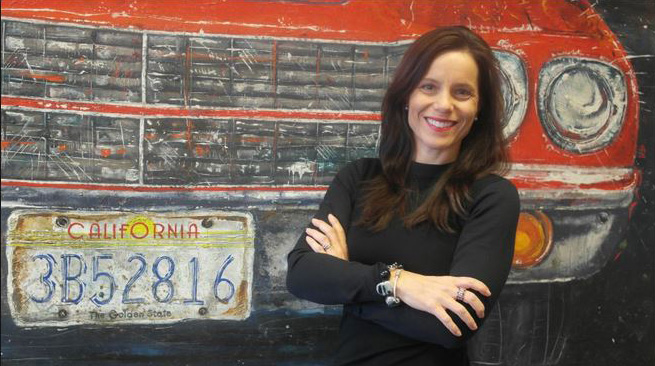 On September 18, 2018 Kathryn Knowles, beloved alumna (B'01, 02), accomplished member of the SAIS Europe leadership team, and friend to many passed away after a brief illness with a rare and aggressive form of cancer.
Kathryn loved working with students and excelled at it in her role as Associate Director of the European and Eurasian Studies program. Whether she was training students to become outstanding research assistants, leading study trips around the world, helping students to select the perfect sequence of courses, or coaching them to secure top internships, Kathryn's commitment to students was unwavering. She challenged students to dream big and took great satisfaction in championing them to accomplish their goals.
As Director of Public Affairs she worked tirelessly to promote SAIS Europe as a premier destination for the study of international relations. Kathryn knew firsthand that although most students spend less than one year in Bologna, they maintain deep connections to faculty and regularly returned to campus for class reunion celebrations. She helped to further strengthen the global reputation of the school by promoting cutting-edge faculty research, orchestrating events with high-profile speakers, and refining admissions material to attract top students. She was brilliant at telling the story of SAIS Europe.
The Kathryn Knowles Internship Fund
commemorates the invaluable personal and professional contributions she made to the SAIS Europe community. Through this Internship Fund her legacy as a committed mentor, accomplished colleague, and dedicated friend will live on. The fund aims to support experiential learning opportunities for students who are affiliated with the European and Eurasian Studies program or who attend SAIS Europe. The priority will be to support student internships, although funds may be used to underwrite student participation in study trips like those Kathryn led to China and Malaysia.
Many of Kathryn's friends and students came together and joined forces to raise $50,000 to allow for the establishment of an endowment thanks to a generous 1:1 match. However, given the tremendous support this initiative has gathered in terms of commitments - a record of $75,000 was raised as of July 10, 2019 - SAIS made available an extra $25,000 as a match, to allow us to bring the endowment from $100,000 to $150,000. This way, the Kathryn Knowles Internship Fund will benefit more generations of students to come and will ensure that Kathryn's name and legacy live on in perpetuity.
Since 2018, 12 students have benefitted from the Kathryn Knowles Internship Fund.
View Recipient List


Mr. Gabrielle Clark (2023)
Intern at F&R Strategy, London

Mr. Limin Wang (2023)
Intern at Globsec, Brussels

Ms. Brittany Demogenes (2022)
Investigations Assessment Analyst at UNDP, New York

Mr. Maximilian Kaminski (2022)
Protocol Officer at the Austrian Parliament, Vienna

Mr. Thanos Theofanakis (2021)
Docent at Lyceo

Ms. Liv Heinrich (2021)
Research Intern at Sapient-Social & Environmental Enterprises, Amsterdam, The Netherlands

Ms. Emma Slater (2020)
Policy Advisor (Trade and Climate Change) at HM Treasury

Ms. Zoe Strauss (2020)
Research Assistant at the International Monetary Fund

Ms. Lindsay Thill (2020)
Associate at Beacon Global Strategies LLC

Mr. Niklas Hintermayer (2020)
Policy Advisor NEOS Wien Rathausklub

Mr. Jan Zdralek (2019)
Diplomat at Ministry of Foreign Affairs of the Czech Republic

Ms. Elif Polat (2019)
Consultant at The World Bank, Washington, DC

Donations can be made at the
following link
by selecting the "Kathryn Knowles Internship Fund."
View Donor List ⇩
For tax-deductible gifts in Europe and to discuss and/or confirm multi-year pledges, please email
gchiappini@jhu.edu
.