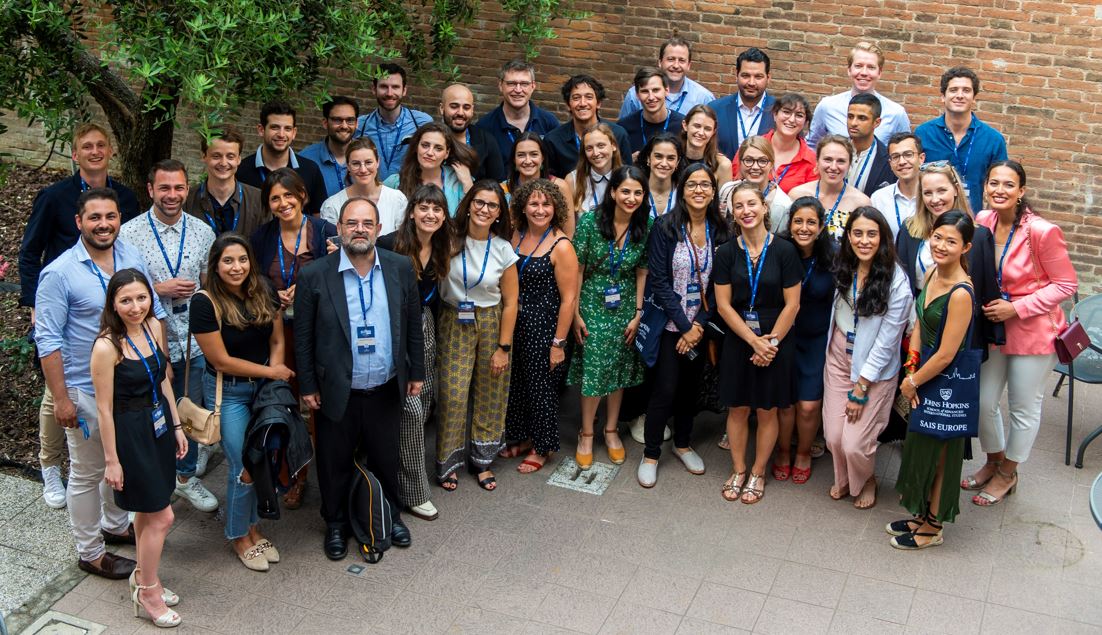 After their virtual reunion at Alumni Weekend 2021, on June 3-4, 2022 the members of the Class of 2016 were finally able to meet in person in Bologna to celebrate their 5th anniversary. Their gathering together gave them also the chance to meet the Class of 2016 Fellowship recipient of 2021-22, namely Chloe Jeon Hyunjung from South Korea. In fact, the gifts made by the class for Alumni Weekend 2021 and the generous match offered by the James Anderson Matching Program allowed for a one-time fellowship to be disbursed in the following academic year. Encouraged by this first successful fundraising effort, the class leaders Adele Barzelay, Christoph Erber, Sarah Moin and Miguel Pereira Mendes decided to launch a new fundraising drive to continue to support new students at SAIS Europe.
"To those who have already donated to our class fellowship fund or other alumni fundraising initiatives - thank you! Our support to SAIS Europe is one of the most meaningful ways of staying engaged and (literally) "paying it forward" to enable future generations of Bolognesi to have the formative experience we all enjoyed five years ago (the pandemic delay doesn't count). We are thrilled that so many of you braved (almost) post Pandemic travel to reunite in Bologna and have truly missed those who were unable to attend. If being back under the portici or at Giulio's has sparked a desire to show your support financially, or if you'd like to contribute to help stave off the FOMO, we very much encourage you to participate in our reunion fundraising initiative. Symbolically, we suggest a base contribution of $20.16, though if you feel particularly generous, you are welcome to donate more in any increment you like (Anyone feeling $$$ enough to donate $200.16?!) Regardless of the amount you feel comfortable donating, let's see if we can get to 100% participation, so that we can incentivize generous alumni such as James Anderson to match our contributions and help create a fellowship for a new student for the upcoming academic year. Grazie mille on behalf of the class leaders e a presto, for the next reunion!"
GIVE NOW!
---
---
If you would like to make a multi-year pledge,
click here
.
If you have any questions, please contact
Alessandra Adami
.