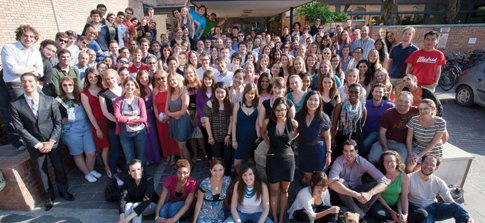 At the end of their year in Bologna, the Class of 2011 decided to leave its mark on the Center by establishing a "Student Enrichment Fund". In doing so, they join the community of Bologna Center donors while developing a sense of cooperation toward a common goal.
Their goal is to establish a $100,000 endowment to offer future classes at the Center the opportunity to enrich their own experience at the Bologna Center by addressing students' unique interests from year to year.
The gift structure will be:
Future classes will be asked to contribute independently to the Student Enrichment Fund so to accelerate the realization of the goal.
A portion of the funds raised will be immediately made available to the Bologna Center class each year, starting with the Class of 2012. A faculty advisor would work with the SGA in any given year to ensure their funding requests fit within the broad guidelines set by our class. A full report on the activities will be provided to the contributing classes by the Bologna Center Office of Development.
Once $100,000 is reached, a permanent Fund will be established by Johns Hopkins University, which will secure a yearly payout to be made available to students in perpetuity. The larger the Fund will grow, the higher the payout benefitting the students in Bologna.
Dear Classmates,

The Class of 2011 Gift is the establishment of a Student Enrichment Fund to provide financial support for future student-led initiatives. These could include, but are not limited to: hosting conferences, inviting guest speakers to the Bologna Center, organizing academic trips or awarding fellowships.

Though we realize that we pay significant tuition to attend SAIS, we also benefit from the philanthropy of past classes in the form of fellowships and building renovations, among other gifts. We've also seen some well-organized initiatives fall by the wayside because of financial shortcomings. By raising $100,000 dedicated to student-use over the next ten years, we can ensure that future student initiatives do not go wanting for funds. Furthermore, we hope that as the amount made available to students increases over time, students will be motivated to pursue creative and more ambitious initiatives, helping make their time in Bologna even more special.

You can make a contribution now or pledge to contribute funds over the next five or ten years, online or using the contribution form. Even small contributions can make a big difference in achieving our goal: funding future student initiatives and leaving a legacy as the Bologna Center Class of 2011.

Sincerely,

Your Student Government
Members of the Class of 2011 who would like to get involved in the initiative should contact or the Bologna Center
Development Staff
or:
Make a pledge and/or a gift now on our
Online Donations
page.
How to Make a Tax Deductible Donation