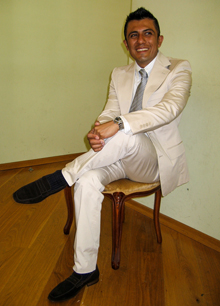 In November 2015, Edgar Luna Mendoza (BC02/DC03, Mexico) suddenly and unexpectedly passed away. Edgar was born in Puebla, México. He was 39 and had a successful career at the International Institute of Finance (IIF) as policy advisor, where he was in charge of sovereign investor relations, conducted sovereign risk analysis, and analysis of capital markets and systemic issues in emerging markets, as well as international financial standards. He regularly took part in Paris Club and other high-level government meetings and negotiations related to international finance. He studied Economics at the Universidad Autónoma de Nuevo León and Arizona State University, and specialized in International Economics and Econometrics. Following that, he worked at Banco de México as an Economist for 7 years where he was responsible for macroeconomic reports and speeches for the Board of Governors, and economic and analytical reports. Edgar's values and beliefs towards both work and life were hard work, optimism, solidarity, teamwork, a caring attitude towards others, honesty, curiosity, passion, and generosity of spirit.
Following Edgar's untimely death, his classmates from Bologna (Class of 2002) began exploring ways to honor the memory of Edgar. We would like to keep his unmistakable spirit of kindness, love, friendship, brightness, as well as academic merit and perseverance alive. To achieve this goal they have decided to rename their
Bologna Class of 2002 Fellowship
- existing since 2012 - in Edgar's honor.
"Our aim would be to give scholarships to bright students from Mexico or Latin America, preferably those interested in International Finance and Economics, and starting out at the Bologna Center - the place where we all met him and shared so many wonderful memories with him. Please join us in the effort of raising funds for this fellowship and help us remember Edgar in the best way possible - by honoring his accomplishments and goals, and by keeping the memory of his joyful and loving spirit alive."
The fellowship would continue the legacy of the existing one, to which many members of the class have generously donated, but become a Memorial Fellowship with a different set of criteria reflecting Edgar's interests and background.
Since 2012, 7 students have benefitted from the Class of 2002 Fellowship:
View Fellowship Recipients
This year, the Class of 2002 Fellowship recipient is from . View
profile
.
2022 will be the year of their 20
th
anniversary in Bologna. Stay tuned for more information on how the class will celebrate this important milestone!
Those who want to contribute to this meaningful initiative, can contact the
SAIS Europe Development Team
or the class members:
If you haven't already done so, please join
SAIS Bologna Class of 2002 Facebook page
. It is a great opportunity to stay connected, share plans for attending the reunion and pass the word about the Class Initiative.
Make a pledge and/or a gift now on our
Online Donations
page.
How to Make a Tax Deductible Donation