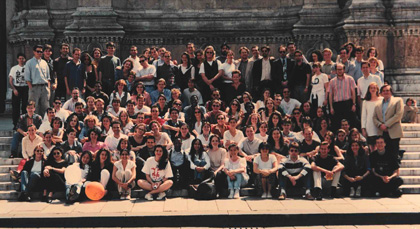 While many class initiatives were started to celebrate an anniversary, the one launched by the class of 1996 has a peculiarity: it started right when they were students at the Bologna Center.
During academic year 1995-96, the class decided to act on the basis of a simple but very powerful observation, i.e. that one of the key dilemmas the developing world has to face is a chronic lack of trained personnel. This is due, most often, to the fact that financial constraints make it impossible for citizens of the developing countries to have access to higher education institutions in the developed world. However, not only would students from the developing world benefit greatly from the type of education those institutions can offer, but those very same institutions (and the Bologna Center among them) would certainly benefit as much from the wider perspective those students may contribute to the academic and extra-curricular debate.
The result of this observation is the
African Fellowship
initiative, established by the Bologna Class of 1996 but open to all those interested in helping future generations of African students to benefit from a SAIS education.
Since 2000, the first year the fellowship was disbursed, 13 students have benefitted from the African Fellowship.
View Fellowship Recipients



Fatuma Hani Ibrahim (Kenya) - 2022
Recent SAIS Europe Graduate


Owulatosin Atala (Nigeria) - 2020, 2021
Pathways Operations Manager at Amazon, Texas, USA


Nnenda Chinda (Nigeria) - 2019
Junior Consultant (Government & Public Services) at Moorhouse, London , UK


Pa Sako Darboe (The Gambia) - 2017, 2018
First Secretary, High Commission for the Republic of The Gambia, Washington, D.C.


Sasilkar Banu (Nigeria) - 2016, 2017
Co-Founder at Sapel Gold Foundation, Washington, D.C.


Abdelghani El Gharras (Morocco) - 2008, 2009
Senior Energy Analyst at L'Observatoire Mediterraneen de L'Energie (OME), Nanterre, France


Thiras Habtu (Eritrea) - 2007, 2008
PhD student in African Studies, University of Vienna, Vienna, Austria


Nuredin Netabay (Eritrea) - 2006, 2007
Graduate student, Joan B. Kroc Institute for International Peace Studies, University of Notre Dame Indiana, USA


Daniel Yeboah (Ghana) - 2004, 2005
West Africa Institute (WAI)-Center for European Integration Studies (ZEI) Project Coordinator, West Africa Institute Praia, Cape Verde


Christophe Dongmo (Cameroon) - 2003, 2004
Country Representative at Denis & Lenora Foretia Foundation Yaoundé, Cameroon


Dauda Foday Suma (Sierra Leone) - 2002, 2003
Principal Industrial Development Officer, Addis Ababa, Ethiopia


Asmaa Shalabi (Egypt) - 2001, 2002
Chief of Section - OAD - MENA at United Nations Office for the Coordination of Humanitarian Affairs New York, USA


Victor Abiola (Nigeria) - 2000, 2001
Global Head, Operational Risk, Corporate and Investment Bank at Standard Bank Group Johannesburg, South Africa


On their 25
th
anniversary, the class of 1996 decided to build on what they started while students. To celebrate this special reunion, they launched a new fundraising drive to endow a perpetual African Fellowship.
Classmates who are interested in joining this meaningful initiative should contact
Clarissa Ronchi
or
Gabriel Cardona-Fox
.
Make a pledge and/or a gift now on our
Online Donations
page.
How to Make a Tax Deductible Donation