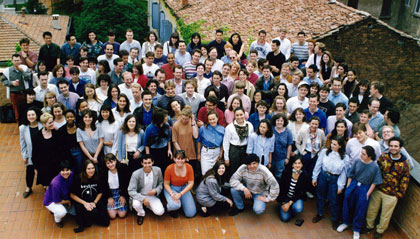 Inspired by many other Bologna classes, in December 2019, Julia and Zach Messitte and Cole Frates took the lead of a class effort in honor of the 25th anniversary of the Bologna Class of 1994. They proposed to their classmates to celebrate this special milestone by raising funds to establish the Bologna Class of 1994 Fellowship providing critical support to SAIS students:
"We are proud of classmates who have built successful careers across the globe, impacting business, diplomacy, education, journalism, technology and culture. We celebrate the life-long friends we made in Bologna and their joys and happiness through the years as we have started thinking about how to give back to those who can't afford the kind of opportunity we had that year in Bologna. That's why we are pleased to announce the Bologna Class of 1994 Fellowship, an endowed scholarship fund that will benefit future SAIS Bologna students in need."
The goal was to raise $100,000 and open an endowment which will secure in perpetuity a yearly Bologna Class of 1994 Fellowship. Thanks to the generosity of many classmates and the matching funds offered by James Anderson in less than two years the fund was opened!
The first Class of 1994 Fellowship recipient is
Mr. Enrique Reyes Dominguez
from Mexico/USA.
Members of the Class of 1994 who would like to get involved in the initiative, should contact the Bologna Center
development staff
.
Make a pledge and/or a gift now on our
Online Donations
page.
How to Make a Tax Deductible Donation