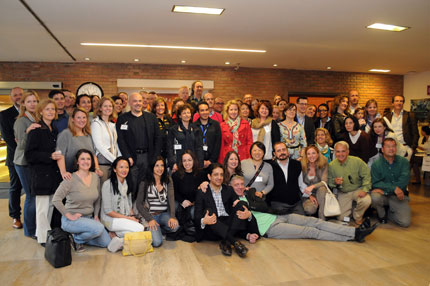 Following by the footsteps of many other classes, the
93s
agreed that their 20th anniversary reunion in April 2013 offered an opportunity not only to meet up with friends with whom they shared a life-changing year, but also the chance to give back to the institution which gave so much to them and contributed in so many ways to who they have all become.
For this reason Susanne, Christine, Abigail, Teri and Anita decided to mark this important milestone by launching a class initiative to support SAIS students.
The goal was to raise $200,000 and open an endowment which will secure in perpetuity a yearly
Bologna Class of 1993 Fellowship
and will contribute to increasing the geographic diversity of SAIS students.
In April 2018
, five years after the launch, on the occasion of their 25th anniversary in Bologna, the leaders proposed
two new goals
to be reached by their next reunion (2023):
40% class participation

set the fundraising bar higher: from $200,000 to $400,000

This year, the Class of 1993 Fellowship recipient is Ms. Elif Polat from Turkey.
Members of the Class of 1993 who would like to get involved in the initiative, should contact
Clarissa Ronchi
or the class leaders:
Make a pledge and/or a gift now on our
Online Donations
page.
How to Make a Tax Deductible Donation