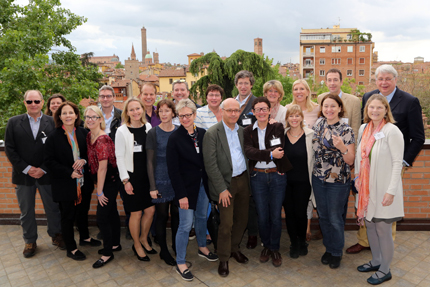 On the occasion of their 25th anniversary in 2011, several members of the Bologna Class of 1986 decided to celebrate this special reunion by raising funds to establish the Bologna Class of 1986 Fellowship, thereby providing critical support to SAIS students:
"A few of us from the Class of 1986 have embarked on a new initiative and we would like your support. We are developing a fellowship to honor our classmate and good friend Bernard Lhoest. Bernard, who died in 2006, graduated from the Universite Libre de Bruxelles, spent his second year in Washington, DC, and began his career at the Program of the United Nations for Development (PNUD). Bernard also worked for the Red Cross in Columbia and afterwards expanded his activities to other Latin American and African countries. According to Bernard's mother, he believed in the role of women in developing countries to, "turn the world around," and make change happen. At the time of his death, his mother established a one-time fellowship in his memory for women from Latin America or Africa at the Bologna Center. The first fellowship recipient in academic year 2009-2010 was Tatiana Machavela from Mozambique. Today she is a consultant c/o The Southern Africa Network Against Trafficking and Abuse of Children in Mozambique. Since 2011 she has been investigating the phenomena of human trafficking in Europe and Southern Africa. The Class of 1986 Fellowship in Memory of Bernard Lhoest builds on this strong foundation. The fellowship supports a female student from Latin America or Africa for her first year in Bologna."
A heartfelt grazie goes to those who have already accepted the invitation to make a contribution to the Bologna Class of 1986 Fellowship fund, but we call on the generosity of all the 86ers!
Since its inception, 9 students have benefitted from the Bologna Class of 1986 Fellowship in Memory of Bernard Lhoest:
View Fellowship Recipients
This year, the Class of 1986 Fellowship recipient is
Ms. Fatuma Hani Ibrahim
from Kenya.
Members of the Class of 1986 who would like to get involved in the initiative, should contact the Bologna Center
development staff
.
Make a pledge and/or a gift now on our
Online Donations
page.
How to Make a Tax Deductible Donation