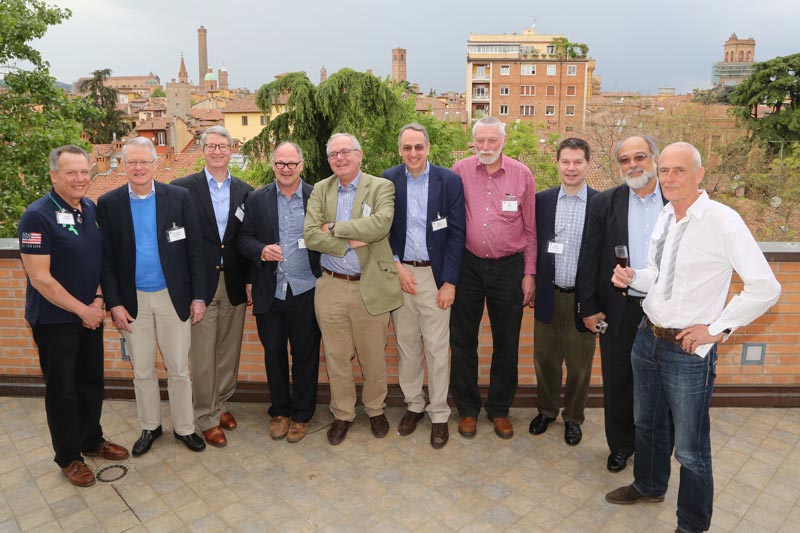 In 2006 the Bologna Class of 1981 decided to make their 25th anniversary a truly memorable one by launching an ambitious fundraising drive to help the Bologna Center complete a major project of renovation and expansion of its building. The class initiative was the most successful among those started for the building campaign, with $130,000 raised to name the newly created student lounge and a professor's office.
Click here
to see who contributed to the initiative.
In 2016, ten years after this very successful initiative, classmate David Snyder decided to honor his Bologna Class 35th anniversary by making a generous seed gift of $100,000 to endow a fellowship in memory of fellow classmate Jonathan Cooper, who passed away in 2009. Jonathan - Johnny as many alumni and Bologna colleagues used to call him- was a very loyal Bolognese with a strong commitment to education. After obtaining his MA in International Affairs at the Bologna Center in 1983, he returned to the Center first as a Student Affairs Coordinator and subsequently as Director of Development. Johnny's contagious laughter and good mood, along with his natural writing talent and his genuine devotion to the underprivileged, are only a few of the key features that made Johnny an unforgettable member of the Bologna Center community.
He was also instrumental in conceiving and setting up the Bologna Center UK Charitable Trust, a UK registered Charity aiming to provide tax incentives to SAIS Alumni in the UK to offer financial support to the school mainly for the UK Charitable Trust Fellowship benefitting the next generations of students from the UK to SAIS Europe. Last but not least, Johnny was a new business development expert and was involved in the creation of London coffee shop chains such as EAT and Amano Café.
The rest of the class of 1981 decided to follow in David Snyder's path to raise additional funds and at least double the endowment's total. The Jonathan Cooper Memorial Fellowship provides financial support to students from developing countries seeking to pursue a SAIS education by spending at least one year at the campus in Bologna. This initiative is a meaningful way both to celebrate the class pf 1981 and to honor the life of Johnny Cooper and his strong attachment to the Bologna Center, continuing his efforts in ensuring that disadvantaged students have access to a SAIS education.
Since 2016, 4 students have benefitted from the Jonathan Cooper Memorial Fellowship. This year, the recipient is Ms. Sneha Mahapatra from India.
Members of the Class of 1981 and other friends of Jonathan who would like to get involved in the initiative, should contact the
SAIS Europe development staff
.
Make a pledge and/or a gift now on our
Online Donations
page.
How to Make a Tax Deductible Donation